Generating a single view of your campus risks by Steve Green, Business Development Manager at Genetec
Campuses are open environments but also need to be safe spaces. Places where students and staff can study and teach with confidence, undisturbed by unwelcome outside attention. Locations that are known to provide secure environments in which to explore and examine new ideas. Unfortunately, that is not always the case. 
University campuses must protect many different types of facility and address a range of potential security threats. From violent behaviour to theft, vandalism to terrorist attacks, modern campus security teams face a catalogue of different challenges. 
They are not helped by legacy security systems that create independent silos of information. Without a single unified view of their systems, sensors, and data it is all but impossible for security teams to gain an accurate understanding of what is happening across the entire campus estate.
Unified solution: Security Center
From a physical security perspective, the main focus has traditionally been on system integration. This involves bringing different security elements together, including video management, access control, automatic number plate recognition (ANPR), communications, and intrusion detection. But unfortunately, integrating multiple systems does not mean they will be able to operate together as a unified system
In a unified system, all devices share the same back-end interface. The result is a security solution that not only looks like a single system but functions like one as well. A unified system, Genetec Security Center provides everything security personnel need within a single hub to help them enhance campus safety and effectively respond to events.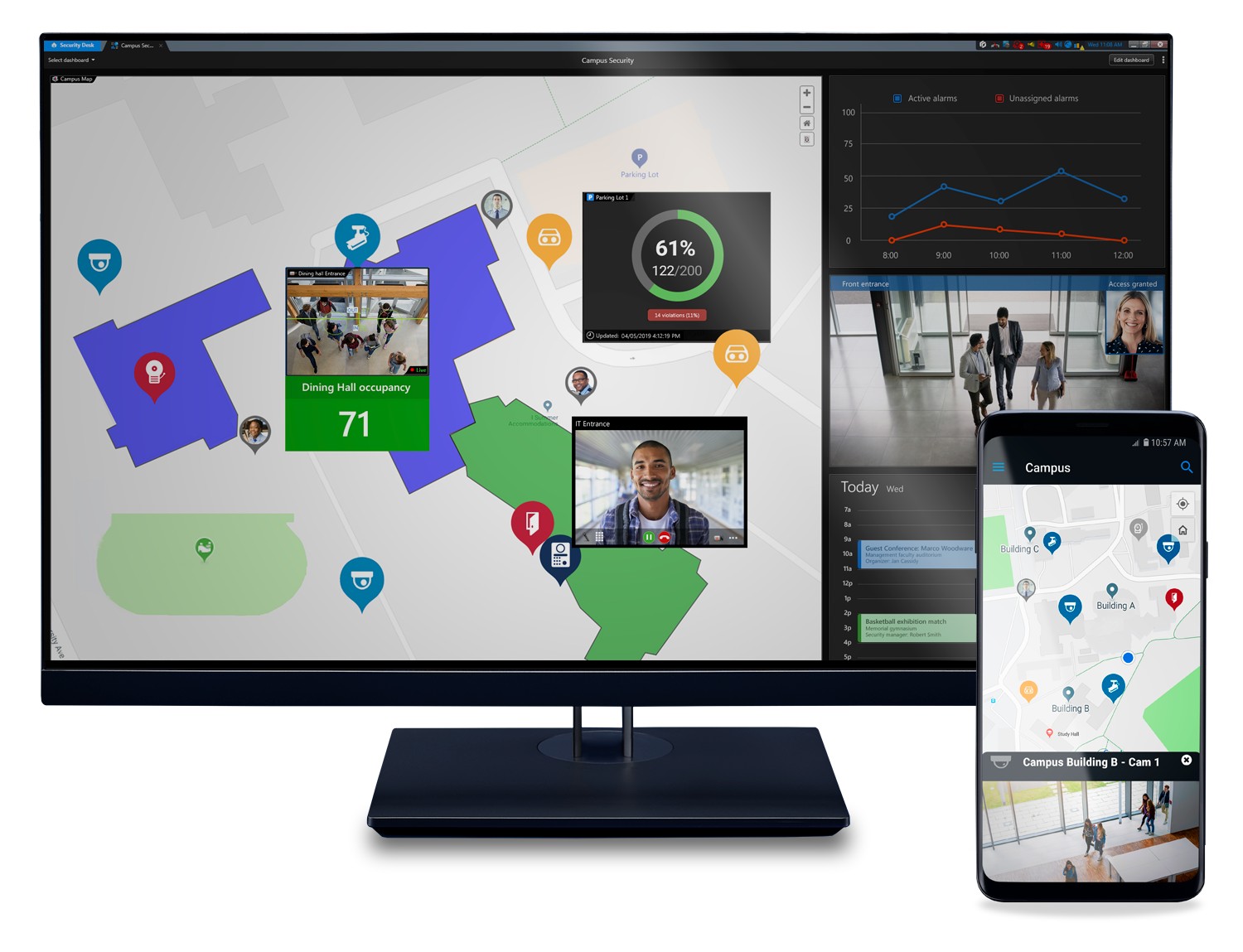 Plan Manager
Genetec has created Plan Manager within the Security Center platform. Plan Manager provides interactive mapping functionality to better visualise and manage security environments. With the ability to dynamically navigate through facilities and manage a greater number of cameras, doors, automatic ANPR cameras, intrusion areas, and other security devices, it provides complete and real time coverage of large multi-site environments.
Plan Manager has been designed to help avoid the 'Tunnel Vision' that results when operators are asked to monitor traditional tile-based monitoring interfaces. They may have been used for decades but, with the addition of more and more inputs, they inevitably lead to decision paralysis and information overload. In today's data rich environment they fail to give security teams the full context and result in risks being missed.
Plan Manager now means that cameras, doors, intercoms, and other security devices can be operated without changing tasks. This not only saves time but helps ensure that the security team's attention is not diverted by switching between interfaces.
The physical location of Genetec Mobile app users is also shown in real-time, with the ability to send messages or share video clips with just a few clicks ensuring that operatives are kept as up to date as possible. And with built-in data layer support, Plan Manager can also display relevant information from external systems, enriching operators' comprehension so they can quickly make the right decision.
Closing thought
So, while campus security does raise a number of unique challenges, the right technology and tools, used in the right way can deliver the outcomes that institutions demand. It is simply a case of recognising the importance of context, understanding the need for dynamic data flows and being able to visualise the entirety of an estate in a single view. These elements are all enabled by Plan Manager within the wider framework of Genetec's Security Center